Connectors and Cables for Hard Drive and SSD
Data storage interfaces evolved together with newer computers motherboards designs and faster methods of transferring data between the CPU and a storage device.
All hard drives and some SSD have two separate connectors, one to connect with power supply, and the other one connects to data controller on the motherboard for data transferring. On the picture with a typical power supply for desktop computer you can see two types of connectors used to power up all types of hard drives and most of SSDs. Red triangles point two 15-pin SATA power connectors, the next 4-pin Molex connectors are still presented to support older devices.
Power Supply with cables and connectors used for powering a Hard Drive or SSD. A SATA power connector (in a circle) is used for most HDDs.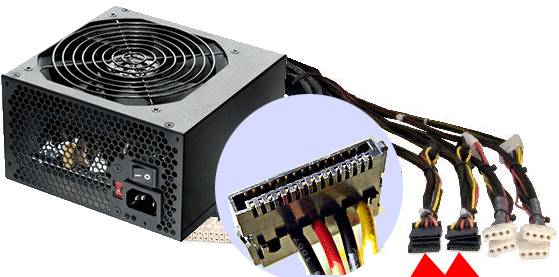 SATA Hard drive connectors (S-ATA) for data transferring. Be aware of metal brackets used for extra securing in same models of SATA cable's connectors (both power and data). The clip must be squeezed to let go the cable out of socket.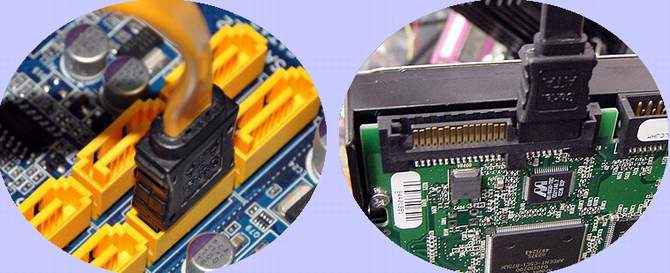 IDE (PATA) Cables and Connectors
IDE Cables and Connectors in old Desktop computers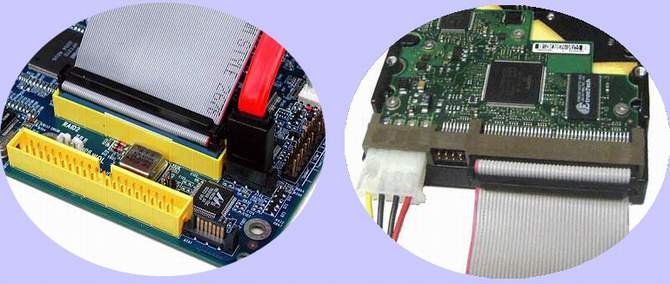 On the left, IDE cable attached to motherboard (yellow connectors). On the right, the IDE drive with IDE data cable and powered through the white Molex power connector.
Old IDE laptop hard drives with IDE-ATA connectors is shown on the next picture.
NOTE: Many laptops require a special adapter to connect the drive to their motherboards. Per say, this 44-pin to 40-pin IDE adapter (on the right) is used in many aged laptops. It is highly recommended to remove all adapters and brackets from the drive before giving the drive to the recovery service. Sooner or later you may need these parts for drive replacement when you decide to refurbish your computer with new drive and software re-installation.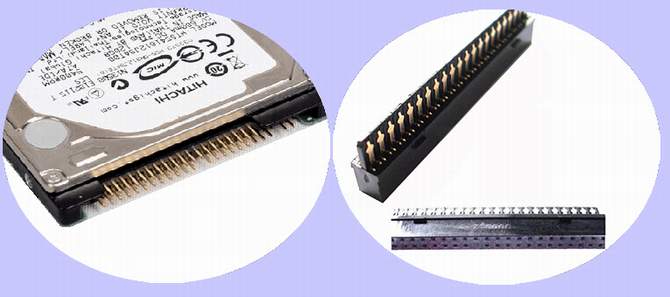 USB2, USB3, USB-C and Apple Lightning cables and connectors: Used for external drives only.

SFF-8784 edge card connector used in internal storage devices, initially designed for using in smart phones and tablets, but now also used in ultra-slim WD Blue hard drive and the WD Black solid-state hybrid drive (SSHD).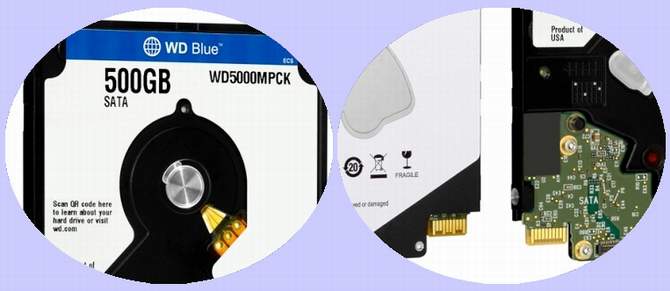 Other types of connectors for storage devices
Firewire cables and connectors: Used for external drives only.
eSATA data cable with eSATA connector is a variant of SATA meant for external connectivity.
SCSI and SAS are used mostly in RAID arrays and servers
Micro SATA (sometimes called uSATA or μSATA) connectors are used in some small-factor hard drives and older SSD
M.2 SSD edge connectors: Variety of single and double sided SSDs supported on motherboard with matched socket types. All M.2 SSDs are internal and mounted directly on motherboard. M.2 stands for next generation form factor which is invented by Intel and it is developed for flat and high-efficiency equipment such as Ultrabook or Tablet PCs.
Some unique proprietary SSD and connectors developed exclusively for Apple Macbooks and some of the Lenovo laptops. For example, Lenovo IdeaPad U300s SSD has a tiny socket right on SSD for connecting to motherboard with a special cable.